We're Changing the Face of Dog Walkers & Pet Sitters in Atwater Village and Surrounding Areas!
Paws Up L.A. focuses on the personal, individualized attention of each pet we care for. We understand the importance of a healthy pet, both mentally and physically, and provide everything they desire when you cannot be with them.
Our pet sitting and dog walking exists to keep your pets at home where they are most comfortable. And Paws Up L.A., as your pet sitter and dog walker, is here to offer our love, one-on-one attention and highest level of care.
Atwater Village has never had service like Paws Up L.A. We guarantee that each pet will always be treated just like a member of our own family. Going above and beyond of what you expect of pet care is our goal at all times!
About the Owner
Carla Sierra has cared for pets of friends and family for years. In 2011, after years in the corporate world, Carla decided to make her love and passion for animals a career by starting Paws Up L.A and hasn't looked back!
Carla has gained most of her experience of providing the best in pet care from her 15+ years of volunteering at Friends for Pets Foundation. Surrounded by animals yearning for love and attention has brought out her undeniable love for pets even more and she strives to extend that to each and every pet she meets. Carla promises her current and future clients the professionalism, reliability, love and care that every dog walker and pet sitter in Atwater Village should possess.
In 2013, Carla's sister, Cybele, joined the Paws Up team to love and care for your pets, too! Cybele shares her heart and home with her two cats, Milo and Alfie.
Carla shares her heart and home with her three pets, Evie, who is a black domestic short hair cat, Truman, a Chocolate Lab mix, and Patches, an Australian Shepherd.
In Memoriam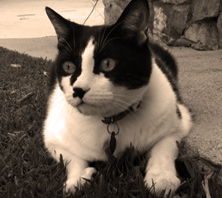 Valentino
Founding Mascot
8/30/1998 - 7/5/2014